Children's Story Time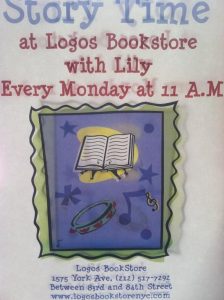 Every Monday at 11:00a.m. with Lily Come Early!
For ages 0-5.
Aside from storytelling, Lily also provides musical entertainment and is available for children's parties.
Logos Bookstore is available for hosting parties.
If interested call Harris at the store, (212) 517-7292
 Kill Your TV Reading Group
Wednesday, December 6, 2017, 7 PM, The Jewel In The Crown by Paul Scott
Wednesday, January 3, 2018, 7 PM, The Man Who Was Thursday by G.K. Chesterton
20% off most instore purchases
for participants in these groups at the time of
the meetings.
The Sacred Texts Group
An interfaith scholarship community led by Ben Siegel (M.A. in Religion, Hebrew Bible & Ancient Near Eastern Studies, Claremont School of Theology). will study and discuss the book of Joshua, Chapter 19, Monday, November 20, 2017, 7 PM.
  Thursday, November 16, 2017, 7 PM,
   The Logos Bookstore Poetry Group will read aloud and discusss the last poem in this epic about King Arthur and the Knights of the Round Table The Passing Of Arthur from Alfred, Lord Tennyson's  IDYLLS OF THE KING.