Children's Story Time
Every Monday at 11:00a.m. with Lily Come Early!
For ages 0-5.
Aside from storytelling, Lily also provides musical entertainment and is available for children's parties.
Logos Bookstore is available for hosting parties.
If interested call Harris at the store, (212) 517-7292
 Kill Your TV Reading Group
Wednesday, May 10, 2017, 7 PM, If on a Winter's Night a Traveler by Italo Calvino
Wednesday, June 7, 2017, 7 PM The God Of Small Things by Arundhati Roy
20% off most instore purchases
for participants in these groups at the time of
the meetings.
The Sacred Texts Group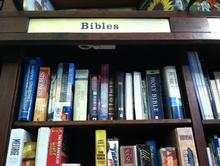 An interfaith scholarship community led
by Ben Siegel of Joyful Heart Foundation (M.A. in Religion, Hebrew Bible & Ancient Near Eastern Studies, Claremont School of Theology).
This Tuesday, April 18, 2017,  7 PM Joshua, Chapter 7
The Logos Bookstore Poetry Group  Thursday, April 20, 2017, 7 PM
IDYLLS OF THE KING by Alfred, Lord Tennyson starting with the poem Merlin and Vivien
ST. JORDI IN NEW YORK  BOOKSTORE CRAWL, SUNDAY, APRIL 23, 2017, 12 Noon to 7 PM,
Buy a book get a rose! (while supplies last.) St. Jordi is the name for St. George in Catalan.
The day itself in Catalonia and Barcelona its principal city is dedicated to literature and love. People give each other books and roses.
April 23 is also the Unesco's International Day Of The Book honoring
William Shakespeare and Miguel De Cervantes who apparently share the same death day.
April 23 is a day to celebrate books and writers. Come on over to Logos Bookstore.